The federal government says its own workplace reforms improving gender equality and job security should not dictate the urgency of a highly anticipated pay rise for aged-care workers, as the industry and unions call for the increase to be given immediately.
A government submission to a Fair Work Commission hearing also argues it is not within the body's remit to determine when the Commonwealth must deliver on its election promise to fund the pay rise, and says the haemorrhaging of the workforce should have no bearing on the timing either.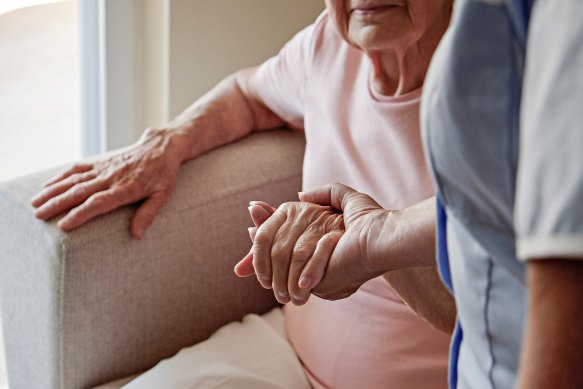 "The commission does not need to consider whether it would theoretically be possible for the Commonwealth to fund the full interim increase through its funding mechanisms sooner than it has decided," the submission lodged on Friday said.
Fair Work ruled in November that aged care workers were entitled to a 15 per cent pay rise after unions launched a wage case calling for an increase of 25 per cent, or about $5 an hour.
The government, which backed the wage case, wants to phase in the increase over 12 months from July 1, while multiple unions and aged-care providers say it should be funded in full as soon as possible.
Loading
Labor amended the Fair Work Act in December as part of its Secure Jobs, Better Pay legislation to make job security and gender equality an object of the act and ensure equal pay for work of comparative value.
Its submission said those factors were relevant to the timing and implementation of the increase but "it does not agree that these new provisions mandate the interim increase commencing immediately, or that any other decision would fail to achieve these objectives".
The submission also said the government would not fund backpay if the commission decided the pay increase should begin earlier than July, and Fair Work should not consider the retention or attraction of the workforce, which suffers from tens of thousands of vacancies, in the timing of the wage rise.
Source link