A controversial ex-NRL WAG who rebranded as a competitive boxer has started her next fight early, trading blows and filthy slurs with her opponent at a media event this week.
Arabella Del Busso, a glamour model who made headlines after the break down of her tumultuous relationship with NRL star Josh Reynolds, was in a face-off with fellow model-turned-boxer 'Lil Kymchii' when chaos broke out.
Security were forced to jump in and pull the women away from each other when Kymchii lunged at Del Busso – or 'Lil Bellsy' as she is known in the boxing ring – and the Melbourne export pushed the American back by her neck.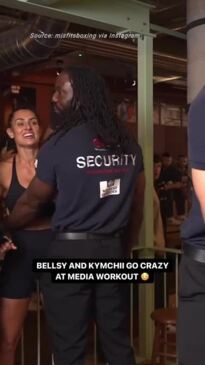 After being shoved away, and as the hosts laugh at the chaos unfolding before them, Kymchii can be heard shouting "that's what I thought little b**ch" and tries to push through two security guards to get back at the Australian.
She then hurls a filthy retort: "You don't think I like getting choked in the throat, b**ch? I take d**k".
Bellsy was quick to reply, smiling as she yells back: "Clearly you haven't".
As another man steps in to usher the riled up Kymchii away, who flips two middle-fingers at Del Busso. The Australian yells one more filthy insult at the woman, who she calls a "f***head", before the video ends.
Tensions were high throughout the interview, with the hosts commenting they thought "something was going to happen" just moments before the altercation. They said they were glad security arrived to "split these girls up".
In an interview with Seconds Out after the altercation, Del Busso explained what happened in the "fiery" incident.
"She was trying to come at me and she was talking a bit of smack so I gotta put her in her place," she said.
"I just said to her, at the end of the day, all she knows is one combo. Like she's so flat footed, she's got no idea."
The pair are billed on the undercard of the Misfits Boxing and DAZN: X Series 007 event on May 13, headlined by British YouTuber KSI and British professional boxer Joe Fournier.
It will be Del Busso's first professional fight, and will take place at London's iconic Wembley Arena.
She won her one and only other fight, an amateur bout against Instagram influencer Papi Katarina in the Pretender to Contender event in May 2022.
Misfits Boxing is a promotional company, founded by YouTuber KSI, for celebrity and influencer fighters,
The former NRL WAG, rebranded as a competitive boxer after a sting on reality TV show SAS Australia, and making headlines for the breakdown of her relationship with NRL star Josh Reynolds.
The 33-year-old previously had a prominent and rocky relationship with Reynolds that dissolved when it became known she had faked a pregnancy.
She admitted to the fake pregnancy when she appeared on the reality show SAS Australia only months after she was fired from Rheumatology Specialist Care.
In the aftermath of their rocky relationship, Del Busso accused Reynolds of assaulting her in an alleged domestic violence incident at his Caringbah South home in 2020.
Reynolds pleaded not guilty to the charges, which were later dropped.
In May 2023, Del Busso returned to headlines after she ran into legal trouble.
The former lingerie model was facing up to 10 years in prison for allegedly stealing more than $52,000 from her former employer over six months between 2019 and 2020.
Police alleged that when she was a receptionist at Rheumatology Specialist Care she asked clients to pay in cash and told them the EFTPOS machine was not working.
Instead, she allegedly deposited thousands of dollars in cash into her personal accounts.
The 33-year old previously pleaded not guilty to defrauding $52,350 from the medical centre.
She will return to court later this year to fight the theft allegations in a one-day hearing.
– With NCA NewsWire