Australian influencer Rory Eliza has shared a tearful video about a "cruel" tourist activity in Thailand, warning others not to make the mistake of participating like she did.
The 21-year-old, who has 6.9 million followers on TikTok, said she wanted to hold a monkey while holidaying in Phuket and asked around where she could find this experience.
She said one travel guide avoided the question, while another recommended a place.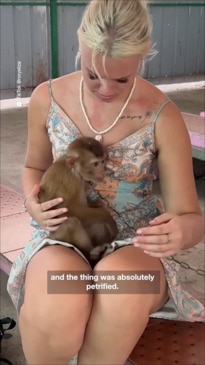 Ms Eliza said she had to pay an entry fee before gaining access to the "Monkey Show" and once the doors opened she was in shock.
"If you're in Thailand, Phuket don't pay for this, don't support this," she pleaded in the clip that has been viewed 6.7 million times in four days.
"I wish I knew before I walked in because I spent money supporting this cruelty.
"It's so cruel. I held this baby monkey in my arms and the thing was absolutely petrified."
A video of Ms Eliza's experience showed a small monkey with a collar around its neck and metal chain being pulled by an unidentified man.
"Every time the guy came to take the monkey off me, the baby just sat their screaming and hissing. And every time he pulled the chain around this baby's neck, the baby would just hug me tighter," she said.
Ms Eliza pleaded with others not to pay for these types of experiences.
"I wish I knew. And as I was walking out they said 'can you give us money to care for the monkeys and help support us' and I said 'absolutely not, I don't support anything you're doing here'," she recalled.
She said she left in "absolute tears".
The young woman later shared her video to Instagram where she wrote an extended caption calling for the "repulsive, disgusting" activity to end.
"All I wanted to do was hold a monkey like I saw on TikTok," she said. "But I learnt the hard way. I had never been to Thailand before and was completely unaware."
Many people thanked Ms Eliza for speaking out, but others criticised her for not doing research beforehand.
"Thank you SO much. I'm going to Phuket and I was going to do this I had NO idea what poor babies [go through], definitely changing plans," wrote one person.
"Thank you so much for posting this. I'm in tears. I'm going to Thailand in a couple of weeks and was going to hold a monkey, but I definitely won't now!" another said.
"Okay but what made you think paying to hold an animal was right in the first place …" criticised one person.
"SO you paid to hold a wild monkey and didn't think that was abuse in itself too?" added another.
news.com.au has contacted Ms Eliza through her management for further comment.