The Chinese balloon that drifted across US airspace and was shot down 10 days ago has provoked an odd mixture of chuckles and high stakes geopolitics.
The strange apparition in the midwest sky has been a gift to humorists and social media memes. At a time when intelligence agencies spend billions on super-advanced spyware, it was pretty funny that China outsmarted the US using a technology little changed since the Montgolfier brothers launched their aerostatic globe in 1783.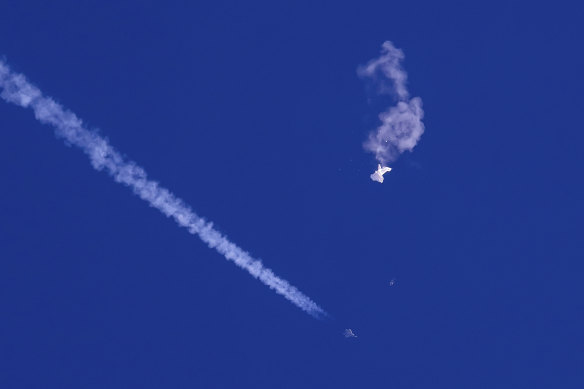 The absurdity has been heightened by the confusing and contradictory statements the US and China have made about the balloon. The Chinese continue to claim, implausibly, that the device was an errant weather balloon, while the US says fragments of the balloon's wreckage recovered from the ocean prove it was not just searching for clouds.
It is still not clear how much of a risk the balloon posed to US national security or whether China has launched others over different countries. China says the US has a balloon program of its own.
However, the diplomatic consequences are already clear. The incident is threatening to cut short the small but significant improvement in China's relations with the US and Australia that has built up steam in the past half year.
Loading
After China's relations with the West collapsed during the Trump administration, President Xi Jinping has recently tried to mend fences, holding one-on-one meetings with President Joe Biden and Prime Minister Anthony Albanese at the G20 in Bali last November.
Foreign Minister Penny Wong followed up with a visit to Beijing, and China has started to wind back the trade sanctions it petulantly imposed on Australia in 2020.
The Chinese balloon hovering over the US heartland, however, reignited anti-Chinese feeling in the US and reversed the signs of rapprochement.
Source link