A British woman has revealed the four things she can do in England, but not in Australia.
Jordana Grace, a radio host on 92.7 Mix FM on Queensland's Sunshine Coast, has been living in Australia for a while now, but as of this week she headed back to home to visit family and friends.
The expat has clocked 11.4 million 'likes' on her TikToks which mainly focus on her experiences living Down Under and all the great culture shocks that come with that.
In one of her previous clips she listed the three things newbies must never do when in Australia.
And this time, after returning home, Jordana was reminded of all the things she could do in the UK, but not in Australia.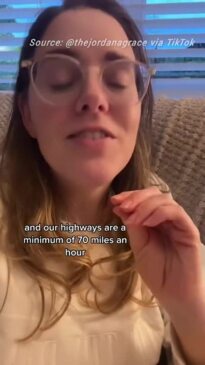 "So I landed back in the UK a couple of hours ago and already I am like, 'Oh yeah, I forgot I can do this,'" she said in her latest clip.
"Number one is speed. "I'm not advocating speeding but the fastest speed limit in Australia is 110km, that's barely 65 miles an hour.
"Our highways are a minimum of 70 miles an hour (112km/h). I say minimum because when you're in the fast lane it's just so normal to go faster to overtake the middle lane.
"But I don't think it's really done in Australia, like you'd get penalised if you did."
The radio host then named walking to the shops as the second thing, making a "blinding cuppa tea" and eating a Yorkshire pudding – a popular accompaniment to a roast dinner made by baking a batter of flour, eggs and milk.
But her list seems to have confused some Aussies, with many pointing out "walking to the shops" is a common act in Australia.
"I don't know where you're in Australia but I can walk to the shops and the big mall," one person said.
"There's so many places where you can't just walk to the store," wrote another.
Another baffled TikToker wrote: "Oh for sure. But acting like no one here walks to the shops?"
"Don't know where you were that you couldn't walk to the shops!" a fourth person said.
But many were quick to come to Jordana's defence, with one saying she doesn't know "anyone that walks to the shops".
Another Aussie said she once lived near the expat and the closest supermarket was about a 90-minute fast paced walk.
"The only shopping mall is 25-minute drive," the woman said.
A third added: "She was speaking about herself. She must have lived a bit away from the local places."
"Yeah, that's a fair point. Different way to see what she's saying," another responded.
Meanwhile, though Jordana is forgiven in thinking 110km is the maximum speed limit in Australia, as it's the case in most states, some Aussies pointed out the Northern Territory has the highest limit of 130km.
"130! I gotta go to NT!" Jordana responded.
And when it came to her point about Yorkshire puddings, plenty of Aussies chimed in to say they know what the tasty dish is — and that they also make it.
"You can get builder's tea in Australia and my grandpa makes me Yorkshire pudding," one person wrote.
"I make Yorkshire pudding. I live in Australia," said another.
A third joked: "We have the ingredients for Yorkshire puddin' babe!"
"Coles supermarkets have the frozen ones. Not saying they are better but I finally tried, and I liked," another added.
One Aussie said their favourite dinner is a "good roast beef with Yorkshire puddings".
"I make my own or pick them up at Woolies in the freezer section!"