A British woman has revealed the three things she will "never do in the UK again" and how Australia has changed her.
Jordana Grace, a radio host on 92.7 Mix FM on Queensland's Sunshine Coast, regularly posts about her experiences living Down Under.
The expat took to TikTok to share her three don'ts – including wearing bike shorts, because the British public will "never accept" her.
"When I first got to Australia and saw people wearing bike shorts, I was like, 'Sure I'll do that when I'm thin, not my size now,'" she said in the clip.
"It took me six months to get the courage and then I started wearing them and I love them. I wear them every day.
"But when I wore them in the UK last summer, I got the dirtiest looks like someone my size can't be wearing bike shorts.
"Maybe only leggings is [sic] acceptable but I'll never wear bike shorts in the UK again."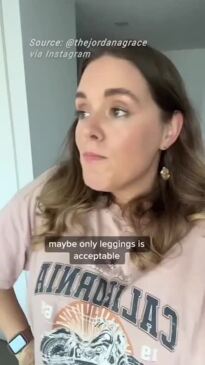 Second on the social media star's list was to never drink coffee in the UK.
"Australia ruined me; it has such good coffee," she said.
"When I go back, I can't drink the [sic] Starbucks or Costa. Never again.
"Don't waste your money, just enjoy the tea."
The final thing she listed was to never complain about how far something is.
"In Australia, distance isn't a concept," she said.
"People do a three-hour round trip just to get a doughnut.
"Now in the UK, a two-hour drive [equals] nothing. Australia has changed me."
Grace's video attracted over 400,000 views, with many agreeing with her about UK coffee.
"I 100 per cent agree with the coffee. I went back to the UK recently and drank tea everywhere I went and I NEED my coffee," one person said.
"Coffee one is so true! I remember going to London and the best coffee I had the entire trip was from an Aussie-run cafe in Oxford St," another wrote.
"English coffee [is] terrible … I'll get the fancy sweet drinks [at] Starbucks instead," a third person said.
Last month, the UK expat went into more detail about how Aussies aren't phased by travelling long distances, whereas in her home country, it's the opposite.
"Welcome to Australia, how distance is not a concept," she joked.
"In England, if I had to go from Swindon to Bristol, a 45-minute drive, it'd be a full-on day excursion.
"[But] because Australia is the size of the moon, distance doesn't worry Aussies.
"Because the biggest lesson I've learnt is that Australia is a state of mind.
"I know Aussies who will drive 1.5 hours for just a doughnut each way."
She warned fellow expats not to fall for "sneaky" Australians and dig deeper when they ask you things like if you want to go to the beach, because it could be "1000km", even though they say it's "just down the road".
Grace's clip generated comments from Aussies about the country's sheer size.
"If something is actually far away, we'll call it 'Woop Woop' and THAT is how you know it's far," one local wrote.
Another said she regularly drives an hour to the next town for fish and chips because they are better.
"I drove two hours to go to a 24-hour Kmart because I wanted to buy an air fryer at 10pm," another Aussie chimed in.
Meanwhile, one said it took them 15 hours to drive from Perth to Border Village, on the border of Western Australia and South Australia.
Read related topics:
Brisbane