Former prime minister Scott Morrison showed "implacable opposition" and "bias" in stopping a controversial gas field being explored off the NSW coastline, according to a ruling in the Federal Court.
Justice Darren Jackson agreed to a request from the Albanese government and two gas companies to end legal action before it concerning the gas field.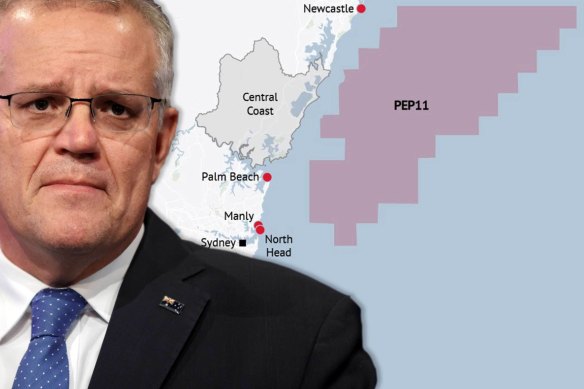 In giving the consent order, it nullifies the Morrison government's decision. In turn, it begins the process again for the gas companies, who must seek approval from the NSW and federal governments to extend the permit to explore for gas.
The decision is a headache for the NSW government, which is weeks out from a state election. The NSW government has opposed any exploration of the project, but the federal government is the ultimate decision-maker.
The gas exploration area, located no more than 50 kilometres off the NSW coast, is known as Petroleum Exploration Permit 11 or PEP11. It covers 4574 square kilometres and runs parallel to the state's pristine beaches, popular tourist destinations, past some of the country's most expensive residential real estate and – at the time of Morrison's decision – past a number of blue-ribbon federal electorates. Many of those electorates are now held by Labor or independent MPs.
On Monday, independent MP for Warringah Zali Steggall introduced a private member's bill to federal parliament to stop PEP11, which was seconded by fellow independent Sophie Scamps, whose electorate of Mackellar stretches from Palm Beach to Dee Why.
Loading
The federal government was taken to court by Perth-based Asset Energy and Bounty Oil & Gas, which claimed the decision by Morrison, who had himself secretly appointed to the resources portfolio while he was prime minister, was "infected by actual bias" and that he and the government had "breached the requirements of procedural fairness in that he predetermined the application".
In his ruling, Jackson wrote: "Morrison's public comments [on PEP11] might lead a fair-minded observer to reasonably apprehend that when he did come to deliberate on the matter, sometime between 10 and 14 December 2021, his mind might have been closed to persuasion."
Source link