A lucky fisherman has recounted his hair-raising encounter with a massive sea predator while kayaking in Hawaii.
Scott Haraguchi was kayaking over a kilometre offshore from Kualoa in Windward Oahu when an unexpected incident occurred involving a tiger shark.
Accidentally leaving his GoPro camera turned on after catching a fish, he inadvertently recorded the harrowing moments that followed.
The fisherman said he heard a peculiar whooshing sound reminiscent of a motorless boat approaching him. Looking up, he witnessed a large brown figure. Initially thinking it was a turtle, he soon realised that it was a tiger shark when it forcefully collided with his kayak.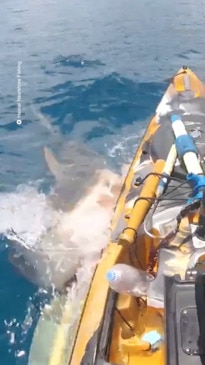 Reacting quickly, Mr Haraguchi managed to kick the shark away and resume fishing. In the heat of the moment, his adrenaline surged, but it wasn't until later, when he reviewed the video at home, that he truly comprehended the magnitude of the encounter.
While unsure of the exact trigger for the shark's aggression, Mr Haraguchi noticed a wounded seal shortly after the incident. He speculates that the shark may have mistaken his kayak for its injured prey.
Although it remains unclear whether it was the same shark, authorities at Marine Corps Base Hawaii decided to close North Beach and post warning signs the following day due to a sighting of a six-metre shark.
Mr Haraguchi expresses his concern about the recent increase in shark sightings. Now he pledges to always bring a fishing partner along. Reflecting on the ordeal, he acknowledges the fragility of life and the importance of making the most of the time we have on Earth.