"As you know, I have no, absolutely no, previous criminal history whatsoever, either here in Aus, or anywhere in the world, and the current allegations are non-violent in nature," he wrote in the letter, seen by this masthead.
"However, I was confined, mysteriously and unprecedentedly, as an 'Extreme High Risk Restricted' inmate even though I have no suspicions of external/political interference!"
Australia, the US and Britain have launched a crackdown on former military pilots being recruited by China, with Duggan's arrest coming days after the British government revealed 30 retired RAF pilots had taken large sums of money from the Chinese military.
In the letter, Duggan said both the AFP and Attorney-General Mark Dreyfus' office had confirmed that he was not considered to be a risk, sparking his lawyers to suggest there had been "foreign interference" in the case.
"I have been locked away in maximum security segregated conditions, with extreme and restricted access to my legal team and family with hardly any reasonable way to defend myself," Duggan said.
"It is very frustrating to hear on TV news total inaccuracies and falsehoods and being unable to defend myself!!"
'Foreign interference'
Four months into his imprisonment, it is still unclear who decided that Duggan posed a serious security risk inside jail, resulting in him being shackled when he is moved by prison guards within the prison.
Corrective Services NSW approved the classification of Duggan as a high-risk prisoner, but his lawyer Dennis Miralis said it would have likely done that on another agency's recommendation.
Miralis said he was pursuing whether there had been "any foreign interference in that designation, in a way that is not in accordance with the law", which suggests that he suspects that the request came from the US.
He said his correspondence with Dreyfus' office suggested they did not hold any concerns that his client posed a security risk, and there was no evidence that the AFP made the recommendation.
"We have directly asked the Commissioner for Corrective Services to deny whether or not in fact there's been any foreign interference in this decision-making," he said.
"We're still fighting to get access to the underlying documents that went into the designation. We've been told that secrecy provisions will not allow us to get access to that material."
Miralis said the classification was typically given to convicted terrorists and other offenders who had been convicted of extremely violent crimes such as murder.
He said a psychologist had examined his client and found that the conditions he had been placed under in prison were "inhumane" and had caused a "significant impact on his mental health".
The Inspector-General of Intelligence and Security and the United Nations Human Rights Committee were investigating Duggan's treatment, his lawyer said.
The AFP, Corrective Services, the federal Attorney-General's Department and the US Department of Justice all declined to say who recommended that Duggan be classified as a high-risk prisoner.
A Corrective Services NSW spokesperson said it "takes great care to determine appropriate security classifications and placements for inmates to maintain the safety and security of our prisons".
"Offenders are moved securely as per their designated classification," the spokesperson said.
Duggan's wife, Saffrine, said his children have been unable to see their father and she has only visited him twice in prison since he was arrested on a provisional warrant from the US.
She said he isn't allowed outside his prison cell, so he has "befriended a bird that visits him each day, and who he feeds with bread from his dinner rations".
"Letters sent are detained for long periods of time for no reason … they only contain handwritten notes [from the children] telling him how much they love and miss him," she said.
"I'm struggling trying to keep the family afloat and help Dan get through this awful situation."
In the week leading up to Christmas, she said her father – a farmer on whose property they live – suffered "severe heart trauma" and needed to be air-lifted for emergency surgery in Sydney – "all a direct result of the extreme emotional stress that has been placed on him and the entire family".
'Love at first sight'
Saffrine Duggan was an up-and-coming photographer when she met an American with a thick Boston accent at an events industry function in 2011.
By then, Duggan had been in Australia for nine years and had separated from his previous wife. He was at the function promoting his new career as a motivational speaker as well as his joy flight business.
"It was almost love at first sight," Saffrine, 48, tells this masthead in written responses via email. "Almost, because I couldn't quite believe he was that good!"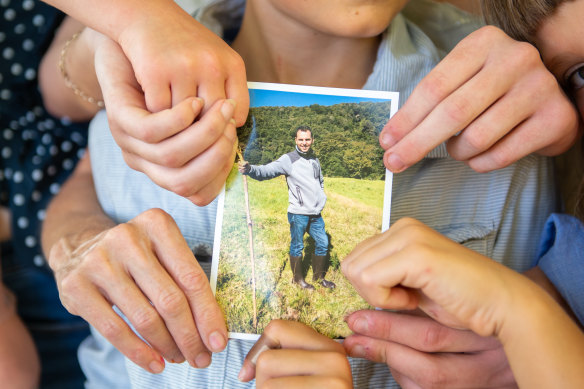 She says the trust between them "grew quickly" and they soon started a family. She says she has always admired how her husband always considers others' opinions and never walks past someone in need without trying to help.
"That's the person I fell in love with," she says.
In 2010, Duggan began working as a subcontractor for South African company Test Flying Academy of South Africa, which is now subject to a "threat alert" warning issued by the British Ministry of Defence.
According to his US indictment, between January 11, 2011 and July 6, 2012, Duggan received 12 payments, totalling about $116,000, which were listed as "personal development training".
The 2017 indictment, unsealed in the District of Columbia courts, alleges Duggan and eight other unnamed co-conspirators were involved in providing military services to Chinese pilots.
It also reveals the US State Department emailed Duggan as early as 2008 to tell him he needed to apply for written authorisation to provide military training to a foreign air force.
All of the alleged offences occurred before Duggan renounced his US citizenship and became an Australian citizen in late 2012.
The couple then moved to China in 2013, where Saffrine says her husband worked as a "broad-based aviation consultant" as well as helping to source aviation equipment and provide advice to China's aviation industry. They married in 2017.
When the pandemic hit, Saffrine and the six children returned to Australia, but Duggan remained in China, separated from the family for 2½ years.
After returning on September 1, 2022, he was arrested less than two months later on October 21, shortly after dropping off the children at school.
Could go all the way to the High Court
Duggan's legal team is for now focused on fighting the legality of the extradition request, rather than refuting the factual assertions made by US authorities.
Australian National University international law professor Donald Rothwell said one of the ways they could do this is by proving the crimes he is accused of in the US aren't offences in Australia.
"Double criminality is essential in all extradition matters," Rothwell said. "It requires that the alleged crimes are ones mutually recognised in the requesting state and the requested state.
"The alleged crimes do not need to be exact duplicates in terms of the various elements of the offence and potential penalties. But they must bear similar core elements of the offence and potential penalties."
He said some crimes that Duggan is accused of are "very specific to US law and there is no Australian equivalent".
While noting he is not an expert on the detention conditions of people facing extradition, Rothwell said Duggan's alleged offences were "not ones relating to alleged acts of violence against a person" such as murder, manslaughter and rape.
"A critical issue here is that the US is alleging offences against the state that extends to dealing with foreign interests," Rothwell said. "That is probably the basis on which the US has sought to have Duggan detained under these conditions.
"Nevertheless, it is ultimately for Australia to determine the conditions for detention for Duggan while he is in Australia, so that is a matter for Australian authorities and courts."
Rothwell said he expects Duggan's legal fight against extradition to go on for some time and it "could go all the way to the High Court and could take years to finally resolve".
Source link