Heartbreaking footage has captured the distressing scenes lining the shore of a Western Australian creek where dismembered sawfish carcasses were found last week.
Four bodies of the large fish species, also known as carpenter sharks, were discovered by shocked onlookers with their rostrums, or saws, removed at Cleaverville Creek near Karratha – over 1500 km north of Perth – on Friday morning at about 8.45am.
The unbearable find prompted the Supervising Fisheries and Marine Officer at Karratha to attend the creek where they found the bodies situated at the natural boat ramp at about 10.25am that same day.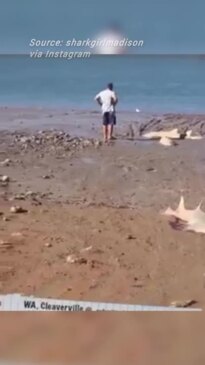 Shark conservationist Madison Stewart, who posted video and photos of the incident to her Instagram, believes the mutilated fish species were green sawfish which are considered vulnerable.
"Australia is important for sawfish, with four of the world's five species of sawfish found in certain hotspot areas," she commented alongside the post containing images of the deceased sea creatures.
"Green sawfish are internationally listed as critically endangered and (are) considered vulnerable in Australian waters."
The habitat for this type of sawfish usually lines Australia's north coastline from Broome in Western Australia, to Queensland's northeastern beaches, according to the Australian government's Department of Climate Change, Energy, Environment and Water.
There are five other types of sawfish in addition to the Green sawfish located across Australia, including the fishwater, dwarf, largetooth, smalltooth and narrow species.
Sawfish are known for their sharklike body, flattened head and elongated snout which contains 24 to 28 unequally-spaced rostral teeth – a feature they are predominantly hunted for.
"Their rostrums had been removed, most likely to be kept as a trophy, similar to an elephant and its ivory," Ms Stewart explained in response to the four carcasses which were found without their saws near the creek.
In Western Australia, sawfish are a totally protected species from recreational and commercial fishing under state legislation.
"An individual could face fines totalling $25,000 if they were found responsible for all four carcasses," Ms Stewart said.
Meanwhile Al Harry, a senior research scientist with the Western Australian Department of Primary Industries and Regional Development (DPIRD) added green sawfish "have been severely impacted" by fishing and habitat loss throughout most of their Indo-Pacific range.
"Western Australia is likely to be a stronghold for green sawfish, due to a combination of strict fisheries management, low human population density in the areas that green sawfish occur (north of Carnarvon), and limited coastal development of the mangrove creeks and estuaries that they use as nursery habitats," he said.
"We don't have any estimates of population size, but we know they still occur throughout their historical range in WA.
"We also regularly encounter them in our research surveys, and they are regularly reported by recreational fishers. Based on this, we think the population in WA is quite healthy."
The gut wrenching sight enraged hundreds of viewers who were "disgusted" to see such an "inhumane" and "unbearable" act.
"This is absolutely infuriating and heartbreaking," one person commented alongside a crying and heartbroken emoji.
"Breaks my heart. We cause so much damage and are beyond cruel," a second person said.
A third comment read: "Killing for 'trophies' is absurd".
Meanwhile others were calling for the Western Australian government to inflict harsher penalties on those who commit such acts, with some saying a fine wasn't a good enough punishment.
"$25k isn't high enough for critically endangered. Should be $25k each. Very sad. I don't know how someone does this," an artist and nature photographer commented.
"As if $25,000 is even close to being enough of a punishment. The fines for abusing, neglecting, damaging etc animals in our country are woefully insufficient!!!" an ex-marine biologist added.
Anyone who may have witnessed the fish species being caught and mutilated or have any information on the offence are encouraged to make a report to Fishwatch on 1800 815 507.
Investigations into the incident remain ongoing.