China's nuclear submarine fleet will grow to more than 20 boats by the end of this decade, while its warship force will increase to 200, Australia's AUKUS chief has warned.
Vice Admiral Jonathan Mead gave a grim warning on the pace of China's proficient military growth, which has created greater urgency to deliver a "pre-eminent warfighting capability".
"In the year 2000 (China) had six nuclear-powered submarines and by the end of this decade they will have more than 20," he told News Corp Australia.
"(Also) in the year 2000, they had 57 surface ships, and by the end of this decade that is expected to approach around 200."
In a separate interview, Foreign Affairs Minister Penny Wong said Australia should continue engaging and trading with China despite its navy's swift growth.
Vice Admiral Mead, who has served in the Middle East and the Persian Gulf, gave assurances the Virginia-class submarines Australia acquires from the US in the 2030s – and the SSN-AUKUS submarines to be built at Osborne – would be "two of the most advanced submarines in the world".
"We have watched the region deteriorate, and hence the government's decision to embark upon the AUKUS program to deliver nuclear-powered submarines that will provide Australia a pre-eminent warfighting capability that will place the greatest question of doubt in the adversary's mind," he said.
"The Virginia-class and SSN-AUKUS submarines will have immense firepower and strike capability."
Vice Admiral Mead said the nuclear boats would be able to conduct the full gamut of submarine warfare, either close to the mainland or in far-flung areas, and collect crucial intelligence through reconnaissance.
The nuclear propulsion technology will mean the boats can stay submerged indefinitely, with no need to refuel or recharge batteries. The only limitation is the crew and food supplies.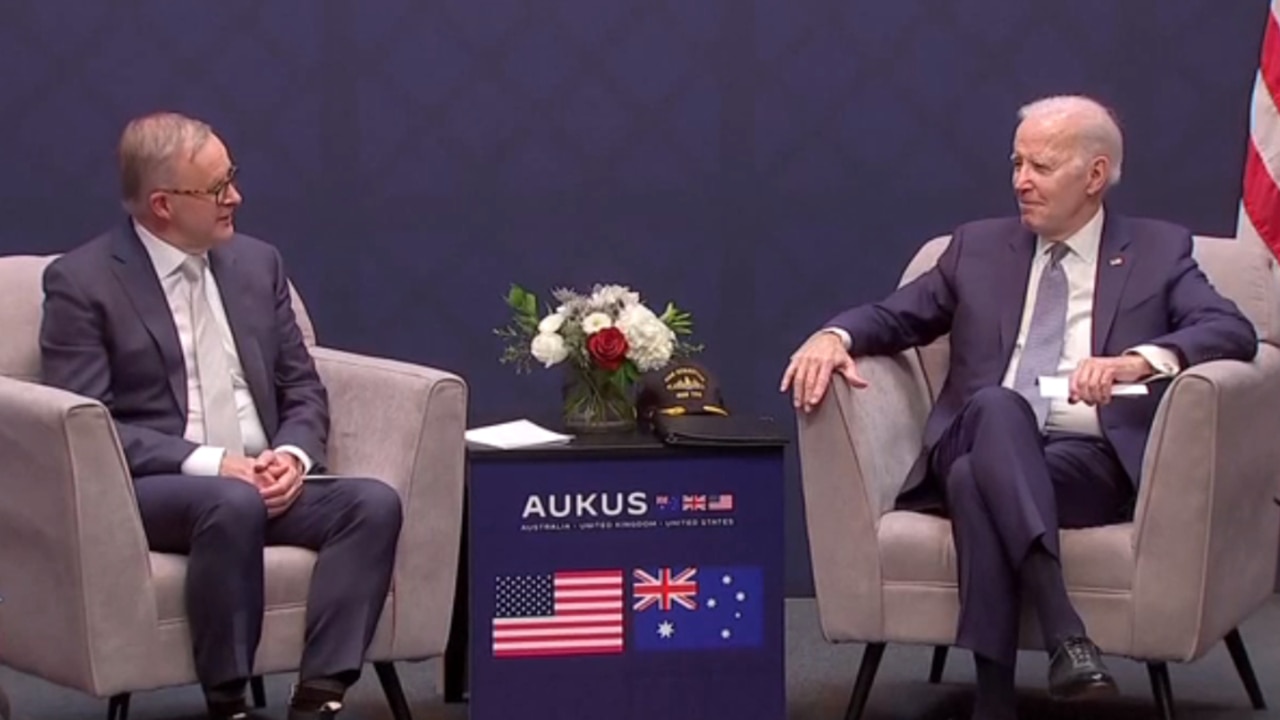 Vice Admiral Mead warned of spies and cyber hackers potentially targeting the US's highly secretive nuclear propulsion technology, which it has only shared with one other country before – Britain, in 1958.
"It's not just protecting the technology of the reactor – it's the whole program itself," he said.
"Nuclear-powered submarines is the most potent warfighting capability that both of those countries have, and they're going to share that with us.
"If you go to the (Osborne) shipyard at the moment, you will see there's just a cyclone fence around there.
"As we begin to build there and turn that into a nuclear site, you will see far more sophisticated security around there – all this needs to be put in place in order to guarantee and provide confidence to our partners, and I think the Australian public would have an expectation that we do this as well."
Vice Admiral Mead said the six countries possessing nuclear-powered submarines had a pre-existing civil nuclear industry, putting Australia in a difficult and unprecedented position in its efforts to construct and operate its own boats.
"But we're doing this in unison with our partners, and that is the real difference here," he said.
"While each country did it by themselves, we're doing it as a trilateral arrangement with the US and UK – and we will be leveraging off their 70 years of experience in nuclear programs … so we've got a massive advantage here.
"I'm not underselling the challenge ahead, but everyone is committed to working through the challenge and delivering on the government's commitment."
Senator Wong told News Corp Australia the AUKUS plan would not derail significant diplomatic breakthroughs made with China on resolving ongoing trade disputes.
"Australia currently has six submarines – with AUKUS we're replacing an existing capability with a new capability. Our plan is for a nuclear-powered submarine fleet of eight boats," she said.
"I'd note that China has tripled its navy in the last 20 years. Those are facts on the ground – or in the oceans.
"But we want to continue to engage and we want to manage the bilateral relationship in a way that enables both countries to continue to grow that relationship, managing their differences wisely."
Vice Admiral Mead revealed new details about how Defence will manage the entirety of the nuclear-powered submarine program.
A new Australian Submarine Agency will be created on July 1 and will be led by a Director General yet to be appointed. It will cost $4.2bn over the next 10 years – $482.7m per year thereafter – and will oversee all aspects of the program from construction, sustainment and technical governance, right through to disposal and nuclear waste management.
Defence is still locked in negotiations to acquire extra land at the Osborne shipyard from the South Australian government.
The deal must be finalised on July 1, or it risks delays to the construction of nuclear-powered submarines.
"Based on expert advice from the US and UK … having a single point of accountability for a nuclear program is essential for safety and security," Vice Admiral Mead said.
The Nuclear-Powered Submarine Taskforce and its 350 workers will transition into the agency and grow to 1000 employees "very quickly".
"Particularly in the technical areas, we will grow quickly and in the safety and security areas we will double down," Vice Admiral Mead said.
Further investments will be made in other government agencies such as the Australian Radiation Protection and Nuclear Safety Agency and the Australian Nuclear Science and Technology Organisation.
Calling Hollywood: Our version of moon landing
Australia must treat its nuclear-powered submarine project as its own version of the moon landing and aspire to have future Hollywood blockbusters made about it, a former UK Royal Navy Second Sea Lord says.
Vice-Admiral Sir Nick Hine has issued the bold rallying call to Australians as the country embarks on an ambitious nation building endeavour, the likes of which the world has never seen.
"This is as significant to Australia, and indeed the region, as putting a man on the moon was," he said.
Sir Nick said Australia needed to replicate the national excitement created by former president John F. Kennedy's 1962 "we choose to go to the Moon" speech, which boosted public support to land a man on the moon within that decade.
"He was right to set the challenge – make it as ambitious as you can and then work out what you need to apply in order to do that," he said.
Sir Nick also said Australia's plan to build nuclear-powered submarines at Adelaide's Osborne shipyard under the AUKUS security pact should be the plot of future Hollywood films.
"They make movies about putting a man on the moon. Are they going to make movies about AUKUS," he said.
"And if they are not, the answer is 'we haven't got it right yet'.
"We need to find a way of creating the national excitement and national psyche about people wanting to make movies about this ultimately, because it is that important to Australia and indeed the region."
Sir Nick, who is now defence giant Babcock's managing director AUKUS and international, said the project was more than just a defence acquisition process.
"This is a whole-of-nation endeavour in order to deliver a nuclear enterprise that supports a sovereign capability," he said.
Australian National University Vice-Chancellor Brian Schmidt said creating a nuclear-ready nation required greater emphasis on establishing an "ecosystem", where the country's budding nuclear scientists and engineers could be supported with steady and exciting work.
He also called for a greater focus on a local nuclear research industry in order for Australia to establish itself as a world leader among other nuclear-capable nations.
"You really do need a research and teaching program that go hand-in-hand, and that is certainly true in the US, the UK, Russia, you name it," Professor Schmidt said.
"These countries … tend to have to have a research and teaching program, so I just don't see any way around that and I don't think that's totally understood by everyone."
Professor Schmidt said there would also be opportunities for Australia to provide valuable uranium for other countries, creating considerable local job prospects.
"Australia has a huge amount of the world's uranium reserves. I think a lot of countries are going to want to use uranium at least for the next 30 to 50 years to get through to a zero greenhouse gas future," he said.
Former UK nuclear submariner Stuart Currie, a senior consultant at Frazer-Nash, said Australia would need to develop a highly skilled workforce capable of developing regulatory frameworks around nuclear oversight.
He said this could involve expanding the Australian Radiation Protection and Nuclear Safety Agency's (ARPANSA) role significantly or setting up a completely different regulator.
"But the final thing and the final point is it has to have teeth – the regulator can come in and say I don't think you're operating safely or I'm not convinced by the Australian government – it's that kind of oversight," Mr Currie said.
In the latest federal budget, it was announced a new Australian Submarine Agency would be created from July 1 to oversee all aspects of the nuclear submarine program.
Extra funding was also allocated to ARPANSA and the Australian Nuclear Science and Technology Organisation, among other agencies and departments.
Originally published as China's undersea threat is growing but our subs can keep the peace, say Australia's AUKUS chief and UK Second Sea Lord
Read related topics:
China