A beauty influencer revealed she was "scammed" after claiming the hotel she booked in Italy doesn't actually exist.
Alix Earle, a 22-year-old beauty creator from Miami, who is currently on a girls' trip in Europe, told her 5.3 million TikTok followers she and her friends became stranded in Positano after the house they booked online was nowhere to be found.
"The house we were supposed to stay at doesn't exist," Alix claimed.
"Our car service cancelled, it's midnight [and] we literally don't know where to go — 11 girls stranded in Positano."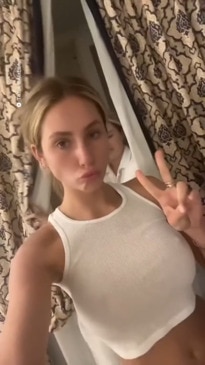 Alix and her friends were travelling from Ibiza before her girls trip took an unexpected turn.
"We landed in Naples and realised our house was a scam," she claimed in a separate clip.
"It didn't exist and then our car service cancelled on us.
"We got a random taxi, we booked a random hotel room for the night — the view was pretty though."
Alix said they booked the villa via booking.com.
News.com.au has contacted the online travel agency for comment.
"We found this hotel super last minute," she said in another clip, showing off her room and the "insane" view.
"We have no idea where we are going to be sleeping tonight but we will figure it out."
Alix' clips have amassed more than 9 million views in total, leaving many stunned by her experience.
"How do you book a house that doesn't exist," one confused person asked.
"This happened to us in Mexico," said another, while a third added: "This happened to us for my friends 30th in Paris the apartment was a scam."
Following the comments, Alix responded: "Literally was a scam".
"This happened to me in Rome a few years ago," another person said. "And we deadass slept outside of the Coliseum on the ground until sunrise️ – great mems tho."
Meanwhile, an Australian man travelling to Canada for a wedding in June revealed how his booking was suddenly cancelled.
Richard Blackburn was one of nine travellers who were due to stay in the apartments booked through Booking.com.
He told news.com.au a 50 per cent deposit was paid on March 10.
"It was unusual to be asked for such a big deposit – usually you can reserve accommodation without putting any money down – but we figured it would mean added security," Mr Blackburn said.
Unfortunately, that wasn't the case because the booking was cancelled on April 30 with no reason given other than they could no longer be accommodated.
"They [booking.com] did provide alternative properties, though," he said.
"One was more expensive and about an hour by public transport from the original property and the other was seven beds in a 10-bed hostel room, not exactly ideal for getting ready for a wedding."
The group ended up finding their own accommodation.
In a statement provided to news.com.au, Booking.com said the property that cancelled on Mr Blackburn had been delisted and it would refund the deposit of $2600 "as a gesture of goodwill".
"At Booking.com, our top priority is to facilitate smooth and enjoyable travel experiences. If a customer has questions or needs any kind of support, including with a refund, our customer service team is available 24/7 to assist further and advocate on their behalf," the statement read.
"In this particular and rare instance, local government authorities have flagged to remove the property from Booking.com and have all future short-term reservations cancelled, as it has failed to comply with local legal requirements for short-term rental accommodation.
"This property has since been delisted on Booking.com."