"Are you living under a rock?"
The 3000 residents in Setenil de las Bodegas in southern Spain have heard the saying far too many times – because yes, they actually do.
It is an unusual yet extraordinary sight, with many of the town's homes built underneath huge rock overhangs.
Artefacts previously discovered in the caves show people have lived in the rock overhangs for at least 5000 years, according to Inside 88FM.
But it is believed the first people arrived at the ancient caves 12,000 years ago, during the Stone Age, continuing there through to Roman times, according to travel blog Phil and Garth.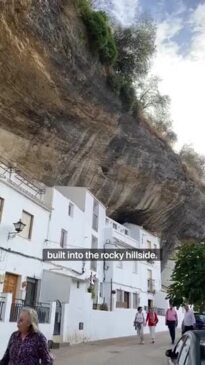 "However when the Islamic Moors arrived 1300 years ago, they built a modern fortified town with a castle and also took advantage of the cool caves and areas under the rock to store goods," the blog states.
The restored tower of the castle built by the Moors is now a tourist attraction for the town, which is around 120km southeast of Seville.
TikTok is filled with videos that show off the town's unique look with many blown away by its "strange" yet "amazing" aesthetics.
"There are streets in this Spanish town that are literally under rocks. Setenil de las Bodegas in Cadiz province is famous for its houses built into the rocky hillside," one TikToker, Amy, from New Zealand, said as she shared footage of homes in the town.
"The two streets that you to see are Calle Cuevas del Sol (Sun Street) and Calle Cuevas de la Sombra (Shade Street).
"This amazing town needs to be on your list of places to go in Spain."
The New Zealander, who goes by the handle, senses_of_spain, has had her video viewed more than a million times with over 100,000 'likes'.
"I swear I've dreamt about this place," one person wrote.
"Wow, stunning," said another.
A third joked: "'Are you living under a rock?' Well actually," to which Amy responded "Totally worth moving there to be able to say that."
"The people here know nothing about what's happening in the world, they literally live under a rock," another also joked.
One person said: "As a geologist I am both terrified and in love with this."
According to Phil and Garth's blog, the homes are not carved into the rock.
Instead, people have built just a front wall – a facade under the natural overhang with the caves forming the interiors of their homes.
"Sun Street is lined with various restaurants and tapas bars. It's worth taking a peek inside some of the bars to see these surreal interiors.
"The rock is their ceilings and walls. We thought some of the bars looked like pubs straight from medieval times."
Meanwhile, Shade Street boasts shopping for visitors.
"There's lots of nice craft and foodie shops to browse around here. Part of the street is more like a tunnel where giant boulders create a natural ceiling."
Social media users who have also been to the town said it is a "must visit".
"I've been here! Super beautiful," one TikTok user said.
"Such a beautiful village. Was there three weeks ago," another wrote.