"The person was released from custody and conveyed to the Canberra Hospital by the ACT Ambulance Service."
Loading
Sotounzadeh said he was protesting peacefully on the footpath outside the embassy around 6.20am when two AFP protective services officers approached him and told him he was behaving in a suspicious and intimidating manner.
Sotounzadeh said police ordered him to protest from the footpath on the opposite side of the street, but he maintained he was allowed to protest in the public area near the front gate of the embassy.
"They dragged me to the other side of the street and an officer started hitting me," he said. "I said, 'stop hitting me, stop provoking me.'"
He said an officer tackled him to the ground and continued to hit him as he pleaded with him to stop. He remembers an officer using his body weight to press him to the ground, causing intense pain.
"I said, 'I can't breathe,'" he said.
Sotounzadeh, a sports physiotherapist, said: "I'm shocked, I haven't done anything harmful."
Greens Senator David Shoebridge described the incident as "deeply shocking" and called for an urgent independent investigation into the officers' conduct during the arrest.
Fellow protester Ali Beikzadeh said he was protesting with Sotounzadeh just before the incident. "He was peaceful, he was calm, he was not aggressive," he said.
Beikzadeh said he left for 20 minutes to buy an umbrella and was stunned when he returned to find Sotounzadeh lying on the ground in great pain.
While acknowledging he did not witness the incident, he says: "The idea he was suspicious or aggressive doesn't make sense to me. He's well aware of the bounds of protesting."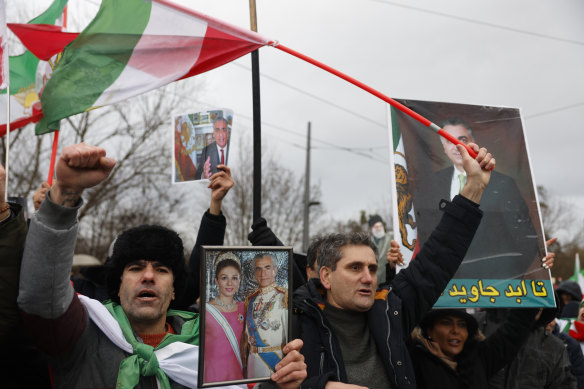 A Senate inquiry published last month called on the federal government to take steps to list the Islamic Revolutionary Guard Corps as a terrorist organisation and expand the list of individuals and entities targeted by Magnitsky sanctions.
The inquiry's report called on the government to "minimise relations with the Islamic Republic of Iran to the greatest extent possible in recognition of the appalling behaviour of the regime" and that "any Iranian officials in Australia considered to be involved in intimidation, threats, or monitoring of Australians be expelled".
Cut through the noise of federal politics with news, views and expert analysis from Jacqueline Maley. Subscribers can sign up to our weekly Inside Politics newsletter here.
Source link