Ministers have to have the authority to make their own decisions for the system to work. Laws often give specific powers to ministers, not the prime minister.
The Treasurer decides whether to veto foreign investments and the Environment Minister decides whether a coal mine or gas project breaches environmental law. Australians saw in January that the Immigration Minister, and nobody else, decides if a tennis player is allowed in the country without taking a COVID-19 vaccine.
"Ministers have to have the authority to make their own decisions for the system to work."
Prime Minister Anthony Albanese is seeking advice, which is a reasonable first step, but it should embarrass federal officials that they cannot confirm who was in charge and when. Governor-General David Hurley confirms he signed documents to give the prime minister additional portfolios. Nobody produces the documents.
Pitt cannot remember when, exactly, Morrison took his job as resources minister. He says it was at some point in 2021. The former minister does not even know when he started sharing the job! There is total confusion about whether individual ministers were told the prime minister had taken official duties in parallel to their own.
It is as if the smoke from the January 2020 bushfires spread through the ministerial wing of Parliament House. They lost sight of the simplest guardrails on how to govern.
Morrison made the right decision when he cancelled an oil exploration permit but he did it in a ludicrous way.
PEP11, short for the Petroleum Exploration Permit 11, was a license to find oil and gas off the NSW coast including near Sydney. Liberals who represented coastal communities were furious with Pitt for taking too long to do make the obvious decision to halt the work. In a government with any self-respect under the Westminster system, the logical resolution was for the prime minister to take the matter to federal cabinet and make a collective decision.
Pitt could have accepted the cabinet ruling or resigned. The Morrison method was to find a sneaky way around this political problem by devising a secret process. It had to be secret in order to work. To reveal he had made himself the resources minister would only have set off a bigger political bomb.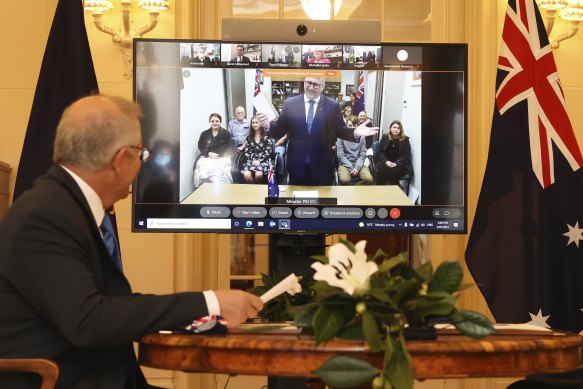 This was a shoddy way to run a government. There was a blurring of responsibility, an absence of transparency and a dodging of accountability.
This was a power trip, pure and simple. And a ticket to a political farce.
Cut through the noise of federal politics with news, views and expert analysis from Jacqueline Maley. Subscribers can sign up to our weekly Inside Politics newsletter here.
Source link