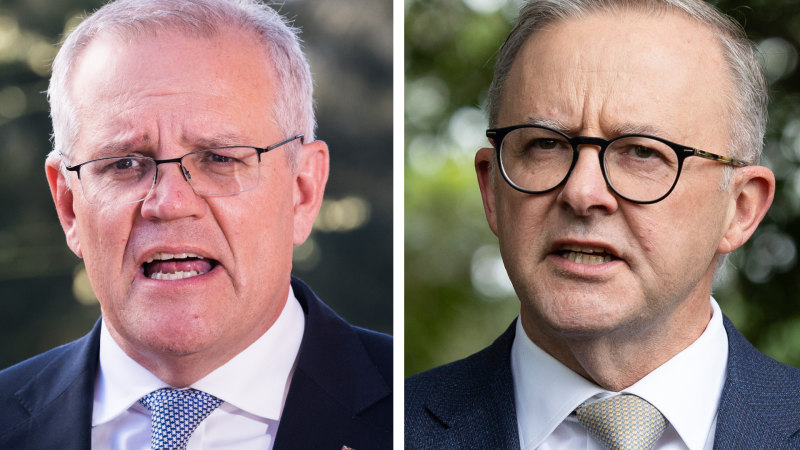 Dutton said he had not been aware of Morrison's secret appointments to a raft of portfolios, that he had texted with Morrison yesterday and called for the process that Albanese has put in place, which includes receiving advice back from the Solicitor-General, to play out.
"Prime minister Albanese announced that he's seeking advice from the Solicitor-General which he expects to get back on Monday," he said.
"So I think frankly, it's time for cooler heads to prevail. The prime minister's come out of his holiday swinging and obviously, this is an issue that he'll get his teeth into. But there are bigger issues, frankly, that families in Australia are dealing with at the moment."
Dutton said the start of the pandemic had been a "war like situation" and there was concern about what would as the virus swept around the world.
"I was the first case in the …cabinet at the time. And I was sent to hospital and people were on ventilators and people were dying at that stage. And that's the context in which the prime minister at the time, Mr Morrison, made some of those decisions."
One furious conservative MP said Morrison's actions went to the heart of the Liberal Party.
Loading
"This is not the party I'm a member of," the MP said.
Another former Liberal MP said "we had two Treasurers and still no economic narrative".
The Sydney Morning Herald and The Age have been told Treasury secretary Steven Kennedy and Home Affairs secretary Mike Pezzullo were both unaware that Morrison had been sworn in as treasurer in May 2021 and home affairs minister on May 11, 2021.
Morrison said before the press conference he took on the resources, finance and health portfolios because of the pandemic.
But he claimed to be unsure if he had been appointed to any other portfolios.
"Not to my recollection," he told Ben Fordham on radio station 2GB.
"I'm pursuing that, but not to my recollection. There were a number that were considered at the time for safeguard reasons, but I don't recall any others being actioned".
"We had to take some extraordinary measures to put safeguards in place," Morrison said.
"Importantly, none of these, in the case of the finance and the health portfolios, ever were required to be used. They were there as a safeguard, they were there as a redundancy because both the powers in those portfolios weren't overseen by cabinet, and the ministers themselves, in both cases, had powers that few ministers in our federation's history were having."
Dutton would not say whether he believed Morrison had lied to Australians, during his 2GB interview, about not being able to recall whether he had been appointed to additional portfolios.
Albanese said on Tuesday the Department of Prime Minister and Cabinet was still investigating whether or not Morrison made any decisions in the portfolios he took on other than his refusal of an oil and gas exploration licence.
He said he "did not believe" Morrison had been paid any extra salary as a result of his decision.
Albanese said he was taking advice from the Solicitor-General about what measures could be taken to prevent such a situation from happening again.
"I am open to a change of reforms or suggestions," he said.
"But let's be clear here. This isn't business as usual. Conventions apply to the way that our democracy functions. It also is the case that the prime minister of the day tables information saying who is responsible for what."
Cut through the noise of federal politics with news, views and expert analysis from Jacqueline Maley. Subscribers can sign up to our weekly Inside Politics newsletter here.
Source link