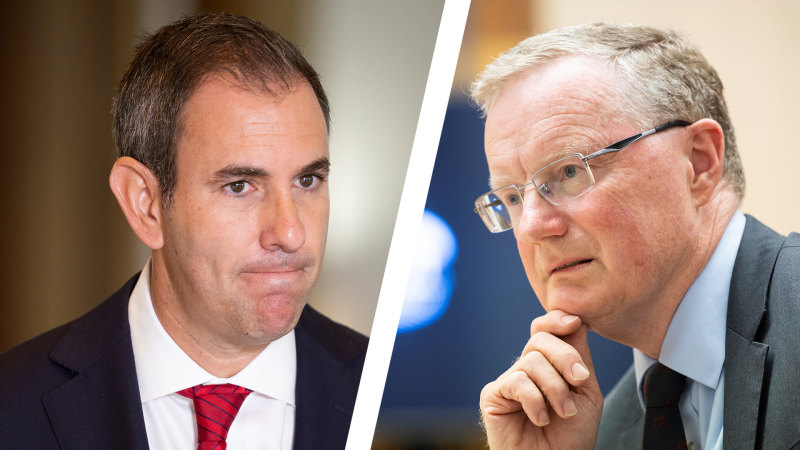 The review of Australia's central bank is the first in 40 years and is examining the bank's structure, culture, accountability, board member appointments and the bank's 2 to 3 per cent inflation target.
The treasurer also said it was up to the governor to respond to a report in the Australian Financial Review that revealed he had a private lunch with traders from the major banks, which coincided with a rise in bond yields.
Loading
"The governor operates independently from the government. I don't clear his commitments that he makes in his diary … I think Governor Lowe will be before two parliamentary committees through the course of the week. No doubt people will want to ask him about that and he can explain it," he said.
There is a growing expectation that Lowe will not have his seven-year term extended to ten years as happened with the previous two governors, Glenn Stevens and Ian Macfarlane.
Lowe has also been criticised for warning against high wage rises to workers and came under fire before the COVID pandemic for holding interest rates too high between 2017 and 2019, with independent research suggesting up to 250,000 jobs were not created during this period as a result.
Chalmers also said that despite the difficult economic conditions, the government expected to avoid a recession – in line with Treasury and RBA forecasts – though the economy is expected to slow considerably in 2023.
Loading
Macroeconomics Advisory chief economist Stephen Anthony, a former treasury official, warned last week the chance of a recession next year could be as high as 70 per cent due to the impact of the RBA's high interest rates, coupled with a slowdown in key markets such as China.
Chalmers also said on Sunday the federal government did not expect to post a surplus in any of the next four years, despite a short-term boost to the budget bottom line because of relatively high commodity prices, and promised to bank most of the additional revenue.
Chalmers earlier told this masthead that households struggling with soaring power bills would get more relief than expected because the government's action to put downward pressure on electricity prices was already starting to work.
"We're not currently expecting a surplus in any of the four forward years. We are expecting a near-term improvement, but some of the pressures on the budget in the later years of the forward estimates and into the medium term are actually intensifying rather than easing," he said.
"Our predecessors spent most of it [the windfall revenue from higher commodity prices]. We will save most of it. We actually saved 99 per cent of it over two years in the October budget, and 92 per cent over the forward estimates."
Cut through the noise of federal politics with news, views and expert analysis from Jacqueline Maley. Subscribers can sign up to our weekly Inside Politics newsletter here.
Source link