"The rules are really clear and so are the consequences for breaching these rules. We want to see these forecast price changes flow through to Australian families, pensioners and small businesses who are doing it tough."
Energy experts have previously said that while there may be other factors, the earlier drop in futures prices was mostly due to the government's temporary caps of $12 a gigajoule on gas and $125 a tonne on thermal coal announced in December.
The Grattan Institute's deputy program director for climate and energy, Alison Reeve, said the drop in futures prices was probably mostly due to the price caps, although possible other factors included a decline in international prices, and coal mines coming back online after flooding events.
"There could also be other things at play … but that drop is pretty sharp, and when you look at it, the drop is highest in Queensland and NSW, states mostly affected by the price cap," she said.
The Australian Energy Regulator determines the so-called "default market offer" – price caps on what retailers can charge households and businesses that don't take up special deals or bundle utilities bills – with the final determination to be released by May. It will factor in energy futures markets, as well as the cost of generation for electricity generators and market confidence.
Following the government's intervention in the energy market announced in December, Chalmers said his second budget in May would include further cost-of-living measures "without adding to inflation". The RBA published updated economic forecasts on Friday that showed inflation being revised down slightly, "reflecting downward revisions to energy price increases" in 2023 and 2024.
While economists last week warned of an increased chance of Australia falling into recession next year following the RBA's latest cash rate rise, Chalmers said that "was not the expectation of the people who put together the government's forecasts".
"I think everybody, including the government's forecasters and the Reserve Bank's forecasters, think that a combination of higher interest rates and global uncertainty will slow our economy substantially this year," Chalmers said.
"But the government is not currently anticipating a recession."
Chalmers said a centrepiece of the May budget will be a further package of power bill relief, including consumer rebates, which is being worked on with the states and territories.
"We're still finalising the budget, we know that relief for electricity bills will be a big part of it," he said.
"If there's more that we can do to ease some of these cost-of-living pressures, we'll look at it. But we need to weigh that against all of the other priorities in national security and in some of the other areas which are important to us as well."
He said the challenge of trying to keep a lid on inflation was the "biggest defining issue in our economy and it's the major focus of the government".
"We've got to make sure that in providing cost-of-living relief, we're not adding to the inflation problem," he said.
"We've got to make sure that there's an economic dividend to what we're proposing, and we've got to make sure it all adds up. And that means inevitably difficult decisions about what we can afford and what we can't."
With the government so far declining to scrap the stage three tax cuts to come into effect next year, many economists have called on it to instead tackle the billions of dollars leaking every year out of the income tax system and into concessions in superannuation, trusts, negative gearing and capital gains.
Chalmers also revealed that later this month he will release a Treasury analysis of the cost to the budget of the tax deductions as part of Treasury's annual statement on "tax expenditures".
While Chalmers said he was doing this "in the interests of transparency", the move suggests he could be laying the groundwork to address some of the loopholes in the years ahead.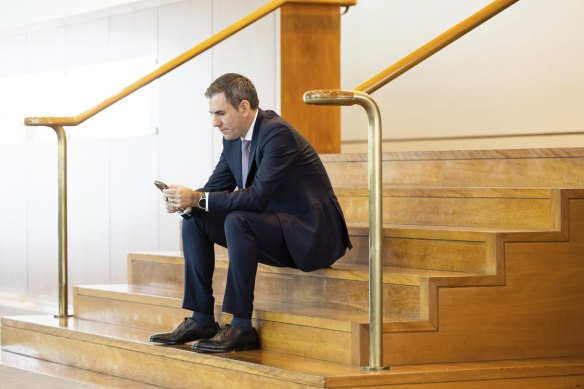 He also said implementing the government's crackdown on multinational tax avoidance would be a "big agenda" this year.
"We've got changes already in the system that we need to bed down and engagement with the world which we're continuing to do. And we'll bed those two sets of things down as a priority," he said.
Chalmers said Russia's invasion of Ukraine, which has been a big reason for turmoil in the global economy and spiralling energy prices, showed that national security and economic policy was now "almost indistinguishable".
"I think when it comes to the war in Ukraine, clearly, it has taught us that the more self-reliance we can have on energy, the better," he said.
"When the world is an uncertain and often dangerous place, then you need to make sure that your supply chains are reliable. And that means dealing with people that you can trust.
"The challenge for us is to make sure that we learn the lessons from the war in Ukraine, but not over-learn them, not pretend that everybody should retreat completely into this kind of comfy isolationism."
He said the opportunities for Australia's fledgling critical minerals and clean hydrogen technologies were "almost limitless".
"There's no net zero without critical minerals," he said.
Asked whether the budget would include an increase to the Newstart payment to help unemployed Australians, Chalmers said he would wait for the recommendations of the "inclusion" committee chaired by former Labor minister Jenny Macklin.
"We'll obviously listen respectfully to that when we get the report and we get their advice," he said.
Source link