A peninsula in north-west Western Australia has been nominated for World Heritage status by federal Environment Minister Tanya Plibersek in recognition of the estimated 1 to 2 million sacred rock engravings there dating back 50,000 years.
If accepted by the United Nations Educational, Scientific and Cultural Organization (UNESCO), the nomination would cover an area of 100,000 hectares on the Burrup Peninsula, or Murujuga to its traditional custodians in WA's Pilbara region.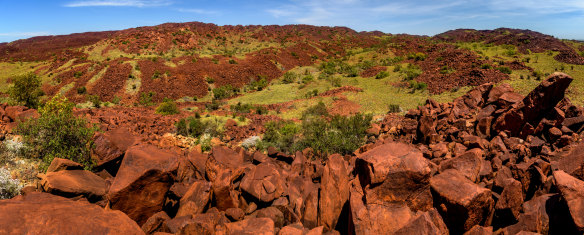 Murujuga would become the second of Australia's 20 World Heritage sites accepted for its First Nations cultural heritage, along with the Budj Bim cultural landscape and ancient aquaculture system in south-west Victoria.
The announcement was welcomed by the traditional custodians although some reiterated warnings that emissions from nearby gas processing plants are damaging one of the world's longest unbroken sequences of rock carvings, or petroglyphs. They are demanding a contentious ban on further industrial development in the area, where gas giant Woodside plans a massive expansion to an existing gas plant.
The early engravings were made by removing a patina – a brown outer layer on the peninsula's rocks as thin as one-thousandth of a millimetre – to reveal the contrasting underlying orange colour.
Loading
Industrial emissions including nitrogen oxides and sulphur oxides make rainfall more acidic, and some traditional custodians say this will damage the patina and damage the engravings. Expert opinion about the risk of industrial emissions is divided.
Murujuga traditional custodian Raelene Cooper, a Mardudhunera woman and former chair of the Murujuga Aboriginal Corporation, called for the federal government to block industrial development under Aboriginal and Torres Strait Islander heritage laws.
"We strongly support the listing process – it should have happened years ago – but we are under no illusions that this will protect areas of outstanding universal value that are directly under threat from Woodside, Perdaman and other industry expanding on Murujuga," Cooper said.
Source link